I've always enjoyed using decoys when turkey hunting although there can be various problems depending on the type you use. These types include metal, plastic, rubber, blow up, foam, mechanical, the list goes on and on. Some of the problems mentioned would be difficulty in carrying, hard set-up, durability, look & feel, etc. The type I've been using the past ten or so years are the soft foam fold up type. They're pretty good, but a few of the issues I've had with them are: They can be a problem trying to fit into a turkey vest or jacket pocket, if moving much are a hassle to fold & unfold, they also have a tendency to deform a bit when folded a lot making them loose that realistic look. Also, the stakes that come with these decoys are usually two piece aluminum with plastic inserts on the ends that often come off when pulling them out of the ground. I find myself digging into the ground trying to retrieve the missing piece if lucky enough to realize it's gone. They can also be a chore to try and push into hard ground. Overall, the issues mentioned may not matter to others, they're the reasons for me not to carry them unless I'm hunting a place that has easy access and I'll be set-up in one spot most of the hunt.


At the recent NWTF Convention, I saw some decoys that I just had to have. They appeared to be the perfect decoy. I spoke with Jerry at Montana Decoy and he hooked me up with a flock which consists of a Tom, Upright Hen, Feeding Hen & a Semi-Feeding Hen. I couldn't wait to get home to review these decoys.


Once I got home I immediatly opened the packages to see if they were as easy to use and carry as they appeared to be when I first saw them.


A first glance: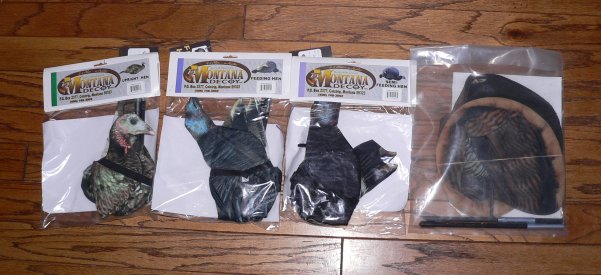 As you can see from the photo above these decoys are small enough to fit into a vest or jacket pocket. Once removed they are ready for use in about 10 seconds. When your ready to pick up and go, they break down in about 30 seconds. You Pull the decoy up remove the stake, fold the decoy down to size, put the rubber band in place and the decoy is ready for storage. There is no loss of shape and appears that it will retain it's original appearance for many seasons to come.
Check out this video to see the ease of breaking down these decoys:
(this is a quiktime movie, it's 27mb so will take some time to download) Break Down Here are a few pictures to let you see how life like these decoys look.